Cedar Grove Cheese Recipes



Faarko and Roasted Acorn Squash Cheesecake
Created by Dane Huebner - Research Chef - Cedar Grove Cheese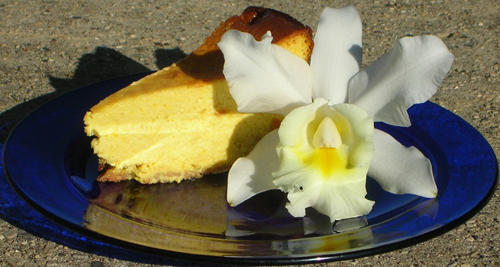 This cake is perfect for the holidays or when you're looking for a sweet treat that is truly unique. The tanginess of the Faarko cheese helps balance the sweetness of the cake as well as adding a layer of complexity and richness to a traditional dessert.

Crust

5 oz (9 whole crackers) graham crackers
3 T sugar, granulated white
1 t ginger powder
1/2 t cinnamon powder
1/8 t clove powder
6 T unsalted butter, melted


Cake Batter

1 lb 8 oz cream cheese
14 oz sugar, granulated white
8 oz (4) eggs
1 lb roasted acorn squash
8 oz heavy cream
12 oz Faarko cheese, shredded
1 t ginger powder
1/2 t cinnamon powder
1/4 t nutmeg

Preparing the Crust

Place graham crackers, sugar, and spices in food processor and pulse until a fine crumb is acheived. Drizzle the melted butter over the crumb mixture and toss to coat. Spray a standard spring form pan (9") with cooking spray. Spread crumb mixture evenly on the bottom of the pan. Using a flat bottom glas or ramekin, pack the crumbs evenly on the pan bottom. Bake crust at 350 deg. F for 12 minutes.


Roasting Acorn Squash

Half and de-seed one large acorn squash. Place inside-face down and bake for 45 minutes in a 350 deg. F oven. Remove when fork tender and let cool. Remove skin.
Preparing Faarko Cream

While acorn squash is baking, prepare Faarko cream. Shred Faarko. Warm cream to near simmer. Add shredded Faarko in small handfuls and mix until cheese is completely melted into cream. Continue adding Faarko until all is incorporated into the cream. Set aside and allow to cool to room temperature.

Preparing Cake Batter

Blend cream cheese and sugar until smooth and no lumps are present. Add one egg at a time and blend until smooth. Add Faarko cream mix. Scrape down sides. mix. Add acorn squash and spices and mix. make sure there are no lumps of squash. Pour batter into spring form pan. Bake at 275 deg. F for two hours.


Notes:
All ingredients should be room temperature. This insures the cake heats up evenly and is set before the surface begins to burn. Room temperature ingredients also make it easier to mix together. Take care not to incorporate air into the batter. This will cause your cake to puff and crack.